'La Moussette' offers charming accommodation in a tastefully converted hay loft and sleeps up to 6 people.* There are two bedrooms with an attached bathroom and a kitchen/dining room on the ground floor in the converted stable. There is also an annexe with en suite bathroom suitable for two people at the other end of the building but with low headroom. (We make a small additional charge for this extra room to cover extra water heating and linen and cleaning costs)
*Two additional 'bunk' beds are also available for children in bedroom 1.
---
The property is located very close to the Lac de Rillé*, a national bird reserve, and adjacent to mixed forest which stretches all the way down to the Loire Valley. It is an ideal location for walking, birdwatching, fishing, cycling and canoeing on the lake. (A fishing boat and bicycles are available to hire) The property is part of 'Les Mousseaux', an old watermill on the River Lathan, which flows through the grounds. There is also a large wildlife pond and almost two hectares of organic gardens and woodland.
Saumur and Tours are only 25 km away and the location is ideal for visiting the many chateaux of the Loire Valley. Our nearest town is Noyant (6 km) but Le Lude, Chateau La Vallière, and Baugé are all no more than 20 minutes away.
The kitchen with dining area is fully equipped with fridge-freezer, microwave, gas cooker, kettle and toaster. There is a large round dining table and six chairs. The original hay rack and manger are preserved as are the original beams.
A beautiful open-tread hardwood staircase leads upstairs where there are 2 adjoining bedrooms (one double bedded, one with a bed settee). Both bedrooms have exposed beams and Velux windows which look out across the fields to the countryside beyond. In the main bedroom there is a double bed, a large 'armoire' and a storage area below two additional alcove beds (ideal for children) built over the old beams. The bathroom is equipped with a bath and shower unit, basin, WC and cabinet. There is solar heating for water (supplemented by electric heating for dull days).
In front of 'La Moussette' is a secluded picnic area with a picnic table with parasol, and barbecue. Guests are also welcome to use the conservatory close by in which passion fruit vines and other subtropical fruit are growing. They are also welcome to enjoy the three acres of gardens at Les Mousseaux, which include a large organic vegetable garden (fresh vegetables and honey from our bees, are for sale in season), flower garden, wildlife lake, and riverside (where fishing is possible). Especially if you rise early you are likely to see kingfishers, the golden oriole and even hoopoes near the river and green woodpeckers are often seen in the woods near the house. Ospreys have visited the Lac de Rillé in recent years.
* We are located less than 100 metres from the lake, a minute or two's walk away.
The restoration of 'La Bergerie' an old shepherds' cottage was completed in summer 2012.. It is a charming self contained cottage with solar water heating (backed up with immersion), kitchen, living room and a large bedroom with large bathroom and shower. With cast iron log stoves in both kitchen and lounge, it is a cosy and comfortable location for winter and spring breaks. There is a double bed and single bed in the upstairs bedroom and an extremely comfortable bed settee downstairs that will sleep a further two. Rental is £450 per week in high season. (Special reduced rates available in winter and spring 2013 for our first year.)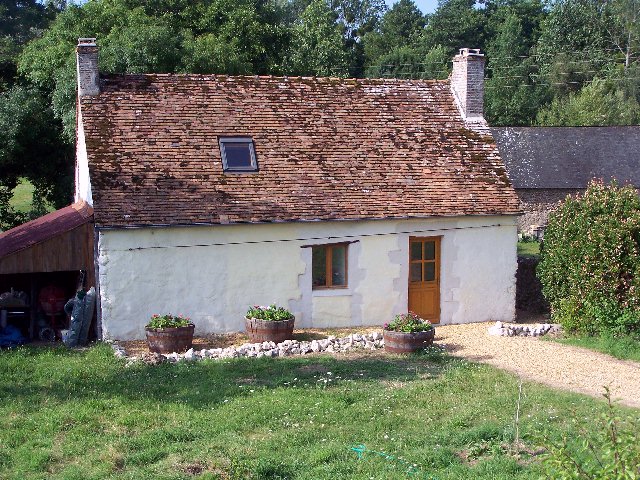 The property has full cooking facilities with gas cooker and microwave, a washing machine, a large walk in shower, and some items of traditional French furniture, including an 18th century 'Petrin'.
Outside is a patio area overlooking a water course, with a barbecue and hardwood picnic table and chairs. There is also a self standing hammock for whiling away those hot afternoons in the shade with a glass of wine.
.Fully modernised with comfortable new beds and chairs, modern fitted kitchen yet with all the old world charm of a French rural property.
Click here to book this fantastic accommodation
Tariffs:
The accommodation is available to rent throughout the year (Bergerie), and during the spring, summer and autumn (La Moussette) . Lettings are normally from Saturday to Saturday. To assist changeover, we specify a departure time of 10 am and an arrival time after 4.00 pm. 2014/15 prices start from £300 out of season.
The cost is for up to 6 people. Bedding and towels are available for 12 euros per bed. A non-refundable deposit of 20% is required on booking with the balance to be paid in full 8 weeks prior to the start of your holiday.
Please check latest pricing details and special offers on Holiday Lettings and on Abritel
To calculate the cost in euros, please click on the following exchange calculator which will give you today's rate:
***We are always happy to see previous guests again. Please contact us for special terms.***
Cancellation charges apply and you will need to take out your own insurance; details of these charges are available when booking. Please also make your own travel arrangements, although we can offer advice on ferry and air companies. We can assist with car hire if required (including picking you up from the airport at Tours for a small supplement) , or we can collect you from the nearest railway station.
---
Meals and Eating Out:
Bread and croissants are available from the bakery 1 km away in Breil, easy walking or cycling distance. Or you can order home baked wholemeal bread 'fait maison' by the owners.
There are a number of excellent restaurants in the area including the 'Lion d'Or' at Noyant, 'Le Pelican' at Vernantes, 'La Renaissance' at Le Lude, and 'L'Oréé du Bois' at La Breille Les Pins. There are also wholesome budget lunchtime meals (four courses including wine for 10.50 or 12 euros) at Le Bouff'Tard at Hommes (superb), 'Le Restaurant de la Gare' at Liniere Bouton, and many similar establishments in the area. Here you will find genuine simple French country cuisine.
You can book via the Holiday Lettings Website for La Moussette and La Bergerie or via Abritel for La Bergerie. Or if you prefer book directly with us on line or. Email us directly.
Once we confirm availability you can complete the booking form which can be downloaded from our website and email or mail it to us: M et Mme Fox, Les Mousseaux, 49490 Breil, France.

In all cases please contact us first to check availability.




You can contact us directly at:

Email: holidays@loire-gites.eu or adriangfox@gmail.com

Snail Mail: M et Mme Fox, Les Mousseaux, 49490 Breil, France

Tel: 00 33 241 82 53 60 (from outside France) or 0241 82 53 60 (France)
Fax: 00 33 244 84 16 08 (from outside France) or 0244 84 16 08 (France)

Also see details on:

Holiday

Lettings.co.uk
Payment:
We do require a deposit on booking (please see above for the amount required) which is non-refundable, so we do recommend you take out travel insurance. If you book within 8 weeks of the commencement of your holiday, then we would request that the total amount is paid in full.
You can pay in any of the following ways:-

Bank Transfer - we can accept payment by bank transfer into our UK account. (Details will be provided on booking)

Cheque.
Pay Pal (£5 surcharge to cover costs) via. payment@loire-gites.eu

Booking Form:
To download our current booking form, which is available as a Word (rtf) document , right-click on the 'Word' icon below, then select Save As or Save Link As or Save Target As to save the file to your computer. You can then either email or mail us the completed form.
Free Software: Want an editor to help you type French characters, or Spanish ones? Want a program to help you win the lottery? Or to make a simple shopping and 'Todo' list? Go to our free software page!